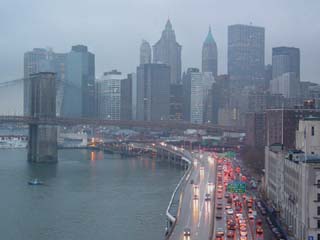 last week i logged only 17.5 miles. the bulk of that mileage was run in 3 races (a 10k and a pair of 5ks). it was an unusual experiment for me because i had planned as a low-mileage (30-40) recovery week and it morphed into something completely different. i'm not sure if i'd reached the point of over training, but i couldn't (mentally) get out the door to do any meaningful training runs during the week. i did enjoy, and looked forward to, the races.

so with that strange week behind me, i kicked off this training week with what i thought was an easy 6 miler. the day actually began with a return trip to the dentist, where he removed the stitches from the implant/bone graft procedure i had done 2 weeks earlier. when i finished the run i was pleasantly shocked to see that i had run 6 miles in 44:07, a 7:21 pace.

here are the splits:

7:52
7:23 15:15
7:02 22:17
6:55 29:12
7:47 37:00
7:07 44:07

7:21 pace

that was faster pace than i ran the 5k on sunday (8:21, as a recovery run), the 10k on saturday (7:33), and the 5k on thursday night (7:24, slightly inspired by absinthe). i'm not taking that one training run too seriously, but it does seem as if last week's mileage cut-back has paid a small dividend - fresher legs and a renewed interest in just plain running.

the major focus for me right now, however, is which distance to run at the pineland farms trail challenge this sunday. i had originally planned on the 50k, but now think i'll move up to the 50 miler. that's probably the correct choice as i look forward to the vermont 100 in july. since the only major distance run i have planned prior to vermont is the unisphere 100k, which is on roads, the trail 50 miler gives me some well-needed additional time on trails.

the minor focus this rainy afternoon is, however, whether to do the wall street run tonight. except for the 20 minutes it took to pick up my race packet, it's rained pretty much all day. right now i feel like a wimp and want to bag the race. not because running in the rain would be too bad - that's actually the enjoyable part. but then i'd have to travel home in wet clothes. the thought of a wet subway ride to grand central, followed by another wet train ride on the metronorth, does not sound like any fun.

stay tuned...
____________________________________

at my desk, it was just after 5 and still raining outside - so i put on my wimp hat, and skipped the race... no regrets, but now i have to find another 5k to make up for this dns!