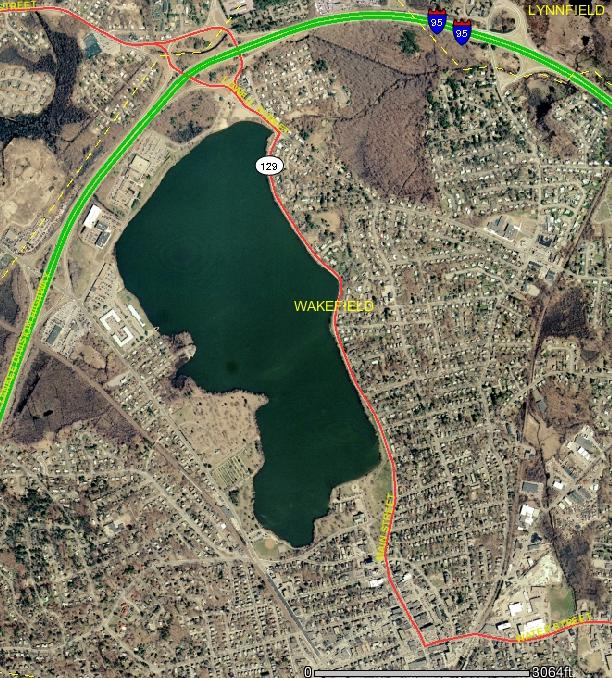 last year this event was cut short by a few hours because of severe thunderstorms - we ran for 17 and a half hours instead of the full 24. it turned out this year i also ran for only 17 and a half hours, not because of the weather but rather logistical issues. i didn't mind cutting it short since i was running the nyc half marathon the next day and didn't look forward to the prospect of getting home at midnight, only to wake up at 4 a.m. for the trip into nyc. in addition, emmy's son was coming home from his trip to guatemala that night and emmy had to switch over from ultrarunner to soccer mom and get over to the airport.
while i didn't plan on the shorted running time frame, it worked out well. i actually ran an extra loop (19 instead of 18) in the same time - and this year i took a 30 minute power nap just before dawn. so, performance-wise, i did a bit better than my 2007 result. but i've gotten ahead of myself. normally the trip to boston from westchester takes about 3 hours, so emmy planned to pick me up at 2:30. which, we thought, gave us plenty of time to reach wakefield before the 7 p.m. start of the race. i what was, in hindsight, a less than intelligent plan - i put in a half day at the office and then went to the nyc half marathon expo to pick up my race packet before i hope on the metronorth home.
in the hour i had before emmy arrived, i packed up my race stuff, made myself some lunch, and packed some extra food (peanut butter and nutella sandwiches) for the trip. then we hit the road. it's hard to overstate how close we came to missing the start because of endless bumper to bumper traffic along the entire stretch of the merritt parkway and, then, the stretch of i-95 to wakefield itself, after wer exited the mass turnpike! it was downright surreal watching 3 huge flatbed trucks move the components to a modular house down i-95 FASTER than we ourselves progressed! a straightforward 3+ hour drive took almost 4 and a half hours!

but luck was with us because we arrived at 6:50 - right in the middle of the pre-race briefing taking place in the middle of the parking lot. emmy managed to squeeze the car into a less than ideal parking spot while i jumped out and grabbed our bibs. the race director, who we had kept apprised via cellphone calls of our excruciatingly slow progress, had already set them aside for us. i quickly switched into my running shoes, made a quick bathroom stop (the first time i ever encountered porta-johns w/out lines before a race!), and actually snapped a picture of the runners assembled for the start! ten minutes never flew by so quickly!

the great rush to begin on time was turned on it's head when we took the first loop very SLOW! the drive had been so exhausting, and the day so long for me already, that i needed the first loop to decompress! so i took my camera along with me and used the opportunity to take pictures of the course before the sunset. the first time around took 48:17! the second loop, without camera took 27:26 - way too fast. the cumulative 1:15:44 for the 6.32 miles was about 12 minute pace. maintaining a 15 minute per mile pace, spread over the 24 hours, would cover 100 miles!
still, after the second loop, i didn't suspect it would be almost SEVEN hours before i saw emmy again! in fact, once separated on the 3.16 mile loop, it's not easy to reconnect with anyone. while one person is completing a loop, the other may be at the halfway point on the other side of the lake - more than a mile and a half away at the time. i caught sight of my friend andy during that period and asked him if he had seen emmy. yes, he had passed her on a downhill he replied. "how long ago was that?" "oh, about 2, maybe 2 and a half hours ago," he said! the passage of time takes on a new dimension in these events!
during that time i would stop at the car, where we had our supplies laid out, and could see she had been there. last year, a benefit of arriving early, we had a great spot alongside the grass field fronting the lake. rob and emmy had set up a great camp site - which included folding chairs and a spread out blanket to lay down on. we had a folding chair, but the parking lot surface - blanket or not - wasn't an attractive option. later that night, when the marathoners finished and the lot thinned out, emmy moved the car to a better spot alongside the grass and repositioned our stuff.
here are my splits for the first 22 miles (which came in just under 5 hours).
48:17:17
27:26:46 1:15:44
32:21:59 1:48:05
43:15:97 2:31:21
41:47:46 3:13:09
47:08:83 4:00:18
1:01:39 5:01:57
at that point, just before midnight, i call home to check in with pat. she and a friend from work had gone to a jazz club to hear david sanchez play earlier that night. i also ate a couple of the hard boiled eggs i had brought along, w/a healthy dose of kosher salt. aside from that much needed protein and sodium, i hadn't eaten much of anything during those loops. one reason for my lack of appetite may have been consuming all that food during the car ride up!
it took a few more loops before i worked up a meaningful hunger. it also took another 2-3 loops before i finally met back up with emmy. after her tenth loop she moved the car and repositioned most of our stuff. when i finished that loop, which was my eleventh, i noticed the car was missing and in it's place sat emmy in the folding chair! so i grabbed the chair and we took the rest of the stuff over to the new location. from that point on we ran the rest of the race together. the high point of the early morning hours had to be the honey dew donut shop!
this place stuck in my memory from last year - aside from the great donuts - it was a strange scene to witness a posse of motorcyclists hanging out in the parking lot of this place. that very image was replayed during the early hours of the race - until closing time. sometime around 3 in the morning so other runners mentioned that honey dew would reopened at 4 a.m. - which prompted emmy to say she would get us some coffee. so midway thru my 12th loop (emmy's 11th) she detoured over there for a couple of cups. then, in an almost comic outcome, after i finished my coffee, fatigue suddenly swept over me!
i told emmy when we got back to the car i was going to grab a quick nap. instead of laying out on the damp grass, however, i slept sitting in the front seat of the car. emmy, laid out in the back seat, also rested. after 30 minutes i felt recharged and was ready to move out. emmy made one more stop at honey dew for her second cup of coffee and we continued on. at that point emmy decided she wanted to reach 50 miles (16 loops) before calling it a day. i wanted to at least cover my prior mileage (56.88) and maybe push on a bit further.
here are my splits for the next 7 loops:
34:21:47 5:36:19
49:34:29 6:25:53
1:02:58 7:28:52
1:12:43 8:41:35
1:26:54 10:08:30
1:35:13 11:43:43
48:00:95 12:31:44
despite the sleep time and the quick side trips to honey dew, i was actually ahead of my 2007 pace! granted, in 2007 i was sidelined with a major blister during the early morning. but this was good news. we also ran my 11th and emmy's 10th loop with fellow marathon "maine-iac" david. he had just run the cranberry island 50k the last weekend and filled us in on the details - as well as the mount desert island marathon. two events i'd like to fit on my race calendar.
i'm not sure if it was the thought of finishing faster, or just getting this thing over with, but the next few loops (after my hearty "breakfast" of coconut crusted honey dew donuts - which the race organizers had provided for us) went by quickly:
1:18: 51 13:50:36
40:59:19 14:31:35
56:00:93 15:27:36
at that point, i had finished 17 loops and emmy 16 (50.56 miles), she called it a day. in fact, emmy's priority now was to jump into the hotel pool. but as i finished my 18th loop i was amazed to find emmy sitting in a homemade ice bath - on the back of a pick-up truck! it was such a sight that i actually stopped and fished my camera out of the car to take pictures of her splashing around in it! then, afterwards, she also managed to take a dip in the pool! amazing!
on the race front, my 18th loop took 52:20:22, for a cumulative 16:19:56. it was an entire hour faster (including the sleep break) than it took me to cover the same distance last year - 17:20:22!! that made me smile, gave me a small adrenaline rush, and pushed me to do another (very slow) loop. my 19th and final loop took 1:09:47 and i finished 60:04 miles in a whopping 17:29:43. i had toyed with the idea of trying to squeeze out one more to cover 100k, but i didn't want to tempt fate at that point. save something for the half the next day.
for comparison purposes, the drive home took just 3 hours - instead of the almost 4 and a half it took to drive to wakefield. timing is everything!